Apply for SPARC Summer 2015 Fieldwork, Data & Analytics, and Archiving & Publication Awards 10/27/14
Applications for SPARC Summer Season (May 2015 - August 2015) Fieldwork, Data & Analytics, and Archiving & Publication Awards open November 15, 2014. We are currently available for pre-application consultations and we encourage you to contact us to discuss your project idea.
Applications can be submitted through the program website: http://sparc.cast.uark.edu.
The application deadline is December 15, 2014.
Created by: Rachel Opitz
---
SPARC Webinar: Archaeological Geophysics - Sensor Selection and Site Suitability 10/06/14
Speaker: Eileen Ernenwein (East Tennessee State University)
Archaeological geophysics includes the use of ground-penetrating radar (GPR), electromagnetic induction (EMI), electrical resistivity, and magnetometry to detect buried features. Many archaeologists are interested in using geophysics but are unsure if their site is suitable and which methods would be best. Is the site a good candidate for geophysical survey? Which methods should be used? How deep down can features be detected? How long will it take? This webinar presents background information on commonly used geophysical methods and a step-by-step approach to answering these and related questions.
---
Date: 17 October 2014
Time: 13:00 EDT
Place:
http://tinyurl.com/psf3l44
---
How to Connect:
1. Go to: http://tinyurl.com/psf3l44
2. Enter your name when instructed and click 'Log In' to enter the meeting.
3. If this is the first time you are using Blackboard Collaborate you will be asked to download and run a small java program. Please allow a few minutes to connect if this is your first time using Blackboard Collaborate.

Created by: Rachel Opitz

---

Winter 2014 Funded Projects 08/24/14

We are proud to announce the second group of projects supported by SPARC Awards. Congratulations to all the PIs.




---

Identification of Coarse Earthenware Potters on Production and Consumption Sites in Charlestown, Massachusetts Using Fingerprint Biometric Identification




Joseph Bagley and Jennifer Poulsen of the Boston Landmarks Commission will be collaborating with SPARC researchers to use a structured light scanner to create detailed 3D models of ceramic artifacts featuring finger and hand prints from the Parker-Harris Pottery Site and Three Cranes tavern Site in Charlestown, Massachusetts. Fingerprints from redware vessels at both production and consumption sites will be analyzed. The goal of this proof-of-concept pilot project is to establish that biometric identifiers can be used to directly connect pottery from consumption sites with production sites when there is a known sale of product between production and consumption sites, tightly dated deposits that can limit association of pottery to specific potters, and there are a limited number of potters known to be producing these vessels. This project will also establish a visual reference collection of fingerprints with the potential for expansion into an automated fingerprint identification system of historic potters on both production and consumption sites in Charlestown and beyond. This type of database could establish previously-unknown associations and commercial networks of domestic redware potters across the eastern United States. With data as unique and personal as a fingerprint, the results of this analysis with bring a personal and evocative light to these significant assemblages, allowing the public to appreciate these forgotten and sometimes nameless potters through the intimate association of their hands.
PIs: Joseph Bagley and Jennifer Poulsen
Institution: Boston Landmarks Commission
Project Type: Anayltics
Region: North America
---
Biodiversity as a Social Process: Land Use, Resource Consumption, and Near-surface Geophysical Explorations at South Indian Iron Age-Early Historic Settlements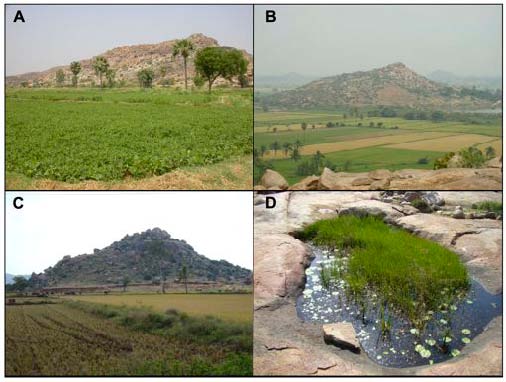 Dr. Andrew Bauer of the University of Illinois will be collaborating with SPARC researchers to carry out near-surface mapping of magnetic anomalies as part of a broader interdisciplinary project designed to examine the related social and natural histories of the understudied inselbergs (island mountains) of the peninsular interior of South India. This research will improve our understanding of the development of social distinctions in ancient South India and to establish the inselbergs' ecological histories.
The planned geophysical explorations have the strong potential to identify structures and activity spaces for forthcoming excavations of habitation and metals production locales at two sites of this type, Kadebakele and Maski, where artifact surface distributions and early textual sources suggest specialized extraction and production of iron and gold occurred. Identifying the location of metalworking facilities at Early Historic Kadebakele through the geophysical survey would enable an evaluation of the scale and degree of metallurgical production within a settlement context. Reliance upon iron blooms smelted 20 km. from the settlement would have had both profound implications for the regional political economy as well as the ecology of the adjacent inselberg hills, where fuel demands for smelting vs. smithing would have had vastly different implications for plant and animal communities, soil erosion, and additional human land-use practices. At Maski the geophysical survey will enable us to identify important temporal shifts in production and the degree to which manufacturing activities were socially specialized, centralized, or more evenly distributed among ancient inhabitants, and likewise the degree to which production and consumption of certain materials and artifact forms contributed to the creation and maintenance of social distinctions. Furthermore, the intensity of production activities and careful documentation of fuel usage in various stages of metallurgical production at Maski will allow us to link production activities with the results of ongoing stratigraphic paleoecological assessments of the hill's vegetation history. Overall, the geophysical research will provide a critical bridge between pedestrian survey and paleoecological sampling analyses and the excavation of subsurface contexts where sociocultural production and consumption activities can be evaluated.
PI: Andrew Bauer
Institution: University of Illinois
Project Type: Fieldwork
Region: India
---
Measuring Household Economies in Iron Age Southwest Jordan: An Archaeological Case Study from Edomite Busayra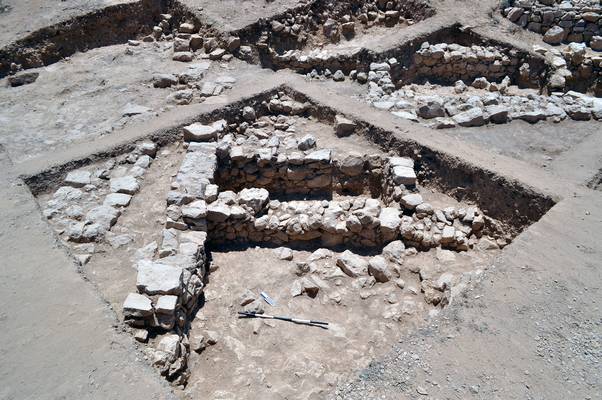 Anthropological archaeologists have long sought to document and explain how the economies of past societies responded to imperial rule. Scholars have paid particular attention to the ways indigenous economies reacted under the stress of imperial demands for tribute and market demands for new or more products. Producers, either on their own or with assistance from imperial sponsorship, could intensify the organization of their economies in order to increase output and meet these new demands. This project investigates questions of how producers in semi-arid zones create sustainable economies that meet their precarious subsistence requirements while achieving the demands of empires and new markets. In this project Dr. Porter will collaborate with SPARC researchers to carry out geophysical survey at Busayra to map sub-surface features in order to characterize the overall architectural layout of the settlement as well as identify domestic residences for additional sampling. The results of the geophysical survey will help target excavation, which in turn will concentrate on recovering inorganic and organic evidence from secure contexts in order to answer the project's principal research question concerning how household economies were reorganized, elucidating evidence for trends toward economic specialization to maximize output in a semi-arid environment.
This research is supported by the Jordanian Department of Antiquities al-Hima (http://www.alhima-jo.org/en), American Center of Oriental Research (ACOR) in 'Amman, the University of California, Berkeley, and the University of California, Berkeley's Archaeological Research Facility.
PI: Benjamin Porter
Institution: University of California, Berkeley
Project Type: Fieldwork
Region: Near East
---
Created by: Rachel Opitz
---