Marzuolo Archaeological Project: Crafting Innovation and Community in The Roman Countryside
PI: Rhodora Vennarucci
Institution: University of Arkansas
Co-PI: Rhodora Vennarucci
Institution: University of Arkansas
Project Type: Fieldwork
Region: Mediterranean Europe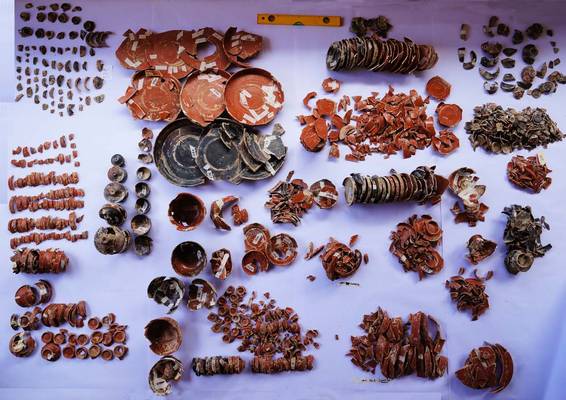 Drs. Vennarucci, Van Oyen and Tol will work with SPARC researchers to implement a digital recording system for the excavations at Marzuolo, a rural production site located in Tuscany, Italy. Supported through pre-fieldwork and on-site collaboration, the team at Marzuolo will establish a method for creating detailed georeferenced 3D models of their sites stratigraphy, integrated with the projects broader GIS and descriptive data. By enabling accurate and thorough spatial recording, the collaboration will aid the PIs in their investigation of the spatial organization of the site and its production activities, particularly those linked to the experimental and later standardized production of Terra Sigillata Italica pottery.
---
The Gault Site 41BL323
PI: Dr. Michael Collins
Institution: University of Texas at Austin
Co-PI: Dr. Michael Collins
Institution: University of Texas at Austin
Project Type: Fieldwork
Region: North America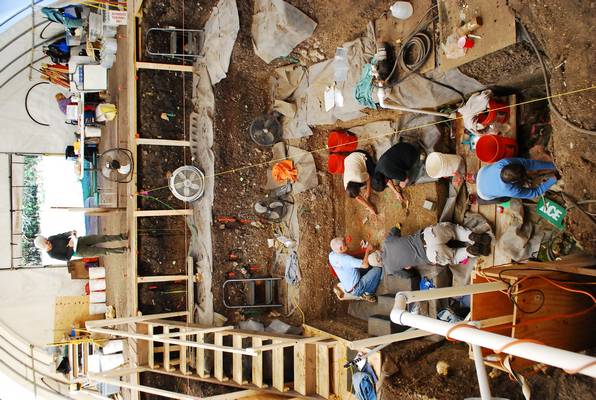 The Gault Site (421BL323) is a multi‐component site with virtually every interval in the regional prehistoric record represented. Deposits in different parts of the site result from various mixes of anthropic and geologic processes (fluvial, colluvial, aeolian) as well as pedogenesis. At this site, Dr. Michael Collins and Dr. Bruce Bradley will be collaborating with SPARC researchers to undertake high‐resolution scanning and photogrammetric documentation of an exposed stratigraphy in a 3-m thick section significant for its long archaeological record and particularly for the presence of a substantial pre-Clovis component , situated stratigraphically below Clovis and dated with OSL on aeolian grains from ca. 16,000 to 13,200. As is true of all sites claiming to have evidence for older‐than‐ Clovis occupation, Gault will be subjected to intense scrutiny, and supporting future independent research on the evidence is seen as essential by the co-PIs. Site formational processes are at the heart of the evidence for integrity of the stratigraphic section, with its pre-Clovis component underlying its Clovis component. Therefore the morphology and topography of the excavated area must be recorded carefully, as part of an effort to create the fullest and most detailed possible documentation of the site's stratigraphy. The results of this project will form the primary framework for integrating all of the broader project's geologic observations and sampling results as the analysis and reporting of this section proceeds. This research is supported by the National Science Foundation, Abell-Hanger Foundation, ExxonMobil Foundation, Archaeological Institute of America, Summerlee Foundation, and Texas Historical Foundation along with numerous individuals.
---
Biodiversity as a Social Process: Land Use, Resource Consumption, and Near-surface Geophysical Explorations at South Indian Iron Age-Early Historic Settlements
PI: Andrew Bauer
Institution: University of Illinois
Co-PI: Andrew Bauer
Institution: University of Illinois
Project Type: Fieldwork
Region: India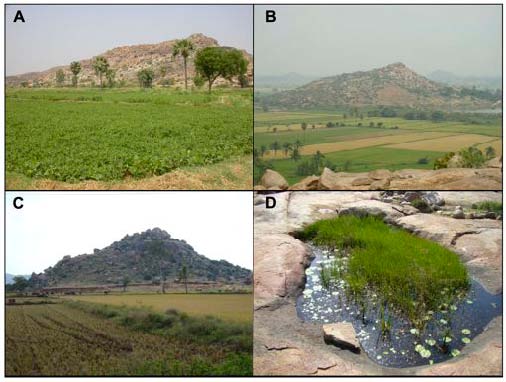 Dr. Andrew Bauer of the University of Illinois will be collaborating with SPARC researchers to carry out near-surface mapping of magnetic anomalies as part of a broader interdisciplinary project designed to examine the related social and natural histories of the understudied inselbergs (island mountains) of the peninsular interior of South India. This research will improve our understanding of the development of social distinctions in ancient South India and to establish the inselbergs' ecological histories. The planned geophysical explorations have the strong potential to identify structures and activity spaces for forthcoming excavations of habitation and metals production locales at two sites of this type, Kadebakele and Maski, where artifact surface distributions and early textual sources suggest specialized extraction and production of iron and gold occurred. Identifying the location of metalworking facilities at Early Historic Kadebakele through the geophysical survey would enable an evaluation of the scale and degree of metallurgical production within a settlement context. Reliance upon iron blooms smelted 20 km. from the settlement would have had both profound implications for the regional political economy as well as the ecology of the adjacent inselberg hills, where fuel demands for smelting vs. smithing would have had vastly different implications for plant and animal communities, soil erosion, and additional human land-use practices. At Maski the geophysical survey will enable us to identify important temporal shifts in production and the degree to which manufacturing activities were socially specialized, centralized, or more evenly distributed among ancient inhabitants, and likewise the degree to which production and consumption of certain materials and artifact forms contributed to the creation and maintenance of social distinctions. Furthermore, the intensity of production activities and careful documentation of fuel usage in various stages of metallurgical production at Maski will allow us to link production activities with the results of ongoing stratigraphic paleoecological assessments of the hill's vegetation history. Overall, the geophysical research will provide a critical bridge between pedestrian survey and paleoecological sampling analyses and the excavation of subsurface contexts where sociocultural production and consumption activities can be evaluated.
---
Reconstructing the Environment and Topography of the Forum Boarium in Rome
PI: Andrea Brock
Institution: University of Michigan
Co-PI: Andrea Brock
Institution: University of Michigan
Project Type: Analytics
Region: Mediterranean Europe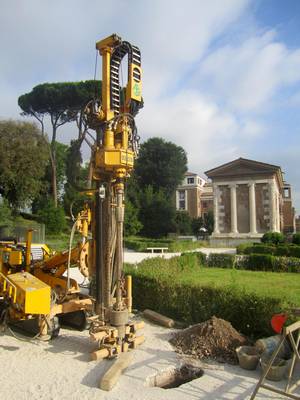 Together with SPARC researchers, Ms. Brock will use newly acquired data from her coring survey to build a digital model of the temple complex at Sant'Omobono (Rome, Italy) and the adjacent Tiber River harbor. By reconstructing the natural and built environment of this area, the team will explore the development of Rome's river harbor in the context of an emerging city. The modeling process will support research on the role of the environment and human adaptation in prehistoric urban systems, and the results will provide an effective way to communicate the new picture of the Forum Boarium.
---
Vulci 3000
PI: Dr. Maurizio Forte
Institution: Duke University
Co-PI: Dr. Maurizio Forte
Institution: Duke University
Project Type: Fieldwork
Region: Mediterranean Europe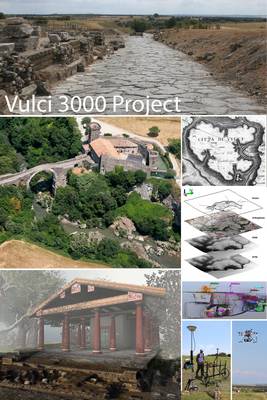 Vulci 3000 is a multidisciplinary project of archaeological research, training and digital communication focused on the Etruscan site of Vulci in central Italy. At many Etruscan sites archaeological research has focused on the necropoleis and funerary contexts. This research orientation has broadly led to a mystical image of Etruscan cities, primarily understood as "cities of dead" rather than living cities, complex settlements and social organisms. At Vulci, the Vulci 3000 Project will be pursuing an alternative line of research, focused on the organization of the ancient territory, population, and city plans – the living city. The research, to be carried out over five years will focus on the diachronic relationships between the ancient city and its landscape, and the organization of the urban center, will provide a different view of urbanism in central Italy, as Vulci emerges as a city is transformed through encounters with neighboring cultures and an expanding Roman state . Dr. Maurizio Forte and Dr. Nevio Danelon will collaborate with SPARC PIs to undertake topographic and architectural survey through terrestrial laserscanning, data that will aid in the contextualization and analysis of previously collected geophysical survey data, and form an integral part of the multi-source dataset supporting the project's larger research agenda. The collaborative research project supported through SPARC will emphasize the analysis and interpretive characterization of the TLS data, pursuing innovative ways to use this type of data to support archaeological interpretation within an integrated multi-sensor dataset. Archaeological data post-processing for Vulci is supported by the Bass connection grant (Duke University) and by the research team of the Dig@Lab and Media+Art and Sciences (Duke University). A new endowment for archaeological fieldwork recently established in the Department of Classical Studies (Duke) will partially support the project for the next three years.
---
Understanding Rejolladas and Examining their Potential for Predicting Settlement Location at Tahcabo
PI: Patricia McAnany
Institution: UNC Chapel Hill
Co-PI: Patricia McAnany
Institution: UNC Chapel Hill
Project Type: Analytics
Region: Central America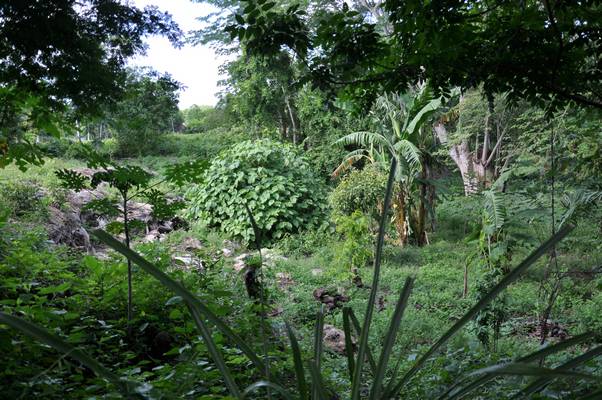 Professor Patricia McAnany and Maia Dedrick of UNC Chapel Hill and Dr. Adolfo-Iván Batún-Alpuche (AGEY) will be collaborating with SPARC researchers to seeks to identify the size and distribution of rejolladas (limestone solution sinkholes) on commonly held ejido land surrounding the town of Tahcabo, Yucatán, México. Rejolladas are significant landscape features because they generally contain deep soils and are characterized by high humidity, in contrast to their surroundings, characterized by shallow surface soils that mean that in northern Yucatán many culturally important tree crops—such as cacao—can only be grown in rejolladas. Further, this difference in soils means that long occupational sequences and information on changes in land use and crop regimes will likely come from rejolladas rather than shallow surface excavations. In this project the collaborators will use remote sensing data to identify and characterize the rejolladas in the area around Tahcabo and to use the results of the mapping exercise to construct a predictive model of settlement location. Further study will examine the attractiveness of rejolladas, and whether such attractiveness was spatially or temporally contingent. The research will also support archaeobotanical and ethnobotanical research by the co-PIs.
---
Modeling Royal Architecture at Sans Souci, Haiti: 3D Scanning and Photogrammetry at a UNESCO World Heritage Site
PI: Cameron Monroe
Institution: University of California – Santa Cruz
Co-PI: Cameron Monroe
Institution: University of California – Santa Cruz
Project Type: Fieldwork
Region: Caribbean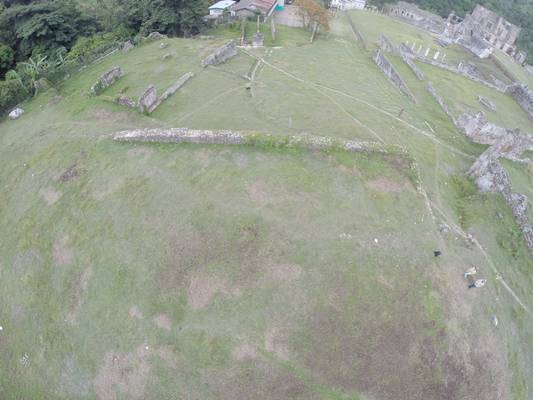 CAST researchers will be collaborating with Dr. Monroe and Mrs. Rocourt to collect new 3D scanning and photogrammetric data of the standing architecture at San Souci, Haiti to generate a high resolution architectural and topographic plan of the site. The collection of this data is crucial to the PIs examination of the architecture of power in the short-lived Kingdom of Haiti (1811-1820), which emerged in the years following the Haitian Revolution. The new project builds on an earlier program of geophysical survey centered on the main palace, and supports the completion of the preliminary study of the site, generating baseline data with which to begin to ask broader questions about the organization of space at this important and under-studied site, and the social dynamics expressed and created by the spatial arrangements.
---