Biodiversity as a Social Process: Land Use, Resource Consumption, and Near-surface Geophysical Explorations at South Indian Iron Age-Early Historic Settlements
PI: Andrew Bauer
Institution: University of Illinois
Co-PI: Andrew Bauer
Institution: University of Illinois
Project Type: Fieldwork
Region: India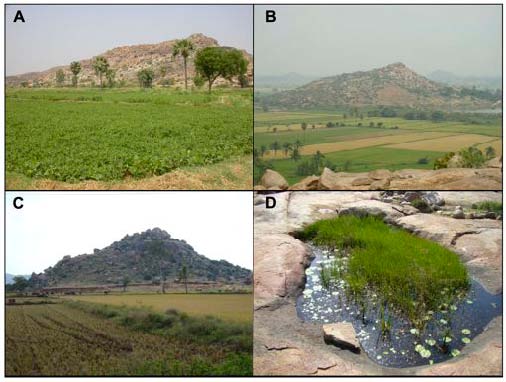 Dr. Andrew Bauer of the University of Illinois will be collaborating with SPARC researchers to carry out near-surface mapping of magnetic anomalies as part of a broader interdisciplinary project designed to examine the related social and natural histories of the understudied inselbergs (island mountains) of the peninsular interior of South India. This research will improve our understanding of the development of social distinctions in ancient South India and to establish the inselbergs' ecological histories. The planned geophysical explorations have the strong potential to identify structures and activity spaces for forthcoming excavations of habitation and metals production locales at two sites of this type, Kadebakele and Maski, where artifact surface distributions and early textual sources suggest specialized extraction and production of iron and gold occurred. Identifying the location of metalworking facilities at Early Historic Kadebakele through the geophysical survey would enable an evaluation of the scale and degree of metallurgical production within a settlement context. Reliance upon iron blooms smelted 20 km. from the settlement would have had both profound implications for the regional political economy as well as the ecology of the adjacent inselberg hills, where fuel demands for smelting vs. smithing would have had vastly different implications for plant and animal communities, soil erosion, and additional human land-use practices. At Maski the geophysical survey will enable us to identify important temporal shifts in production and the degree to which manufacturing activities were socially specialized, centralized, or more evenly distributed among ancient inhabitants, and likewise the degree to which production and consumption of certain materials and artifact forms contributed to the creation and maintenance of social distinctions. Furthermore, the intensity of production activities and careful documentation of fuel usage in various stages of metallurgical production at Maski will allow us to link production activities with the results of ongoing stratigraphic paleoecological assessments of the hill's vegetation history. Overall, the geophysical research will provide a critical bridge between pedestrian survey and paleoecological sampling analyses and the excavation of subsurface contexts where sociocultural production and consumption activities can be evaluated.
---
A 3D Digital Collection and Virtual Exhibit for Santa Ana Tavela's Community Museum
PI: Stacie King
Institution: Glenn A. Black Laboratory for Archaeology, Indiana University
Co-PI: Stacie King
Institution: Glenn A. Black Laboratory for Archaeology, Indiana University
Project Type: Analytics
Region: North America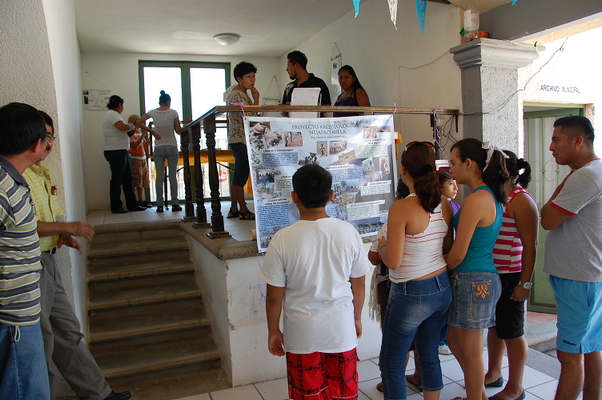 Stacie King will be developing a workflow and protocol to model and virtually display objects from a community museum collection in Santa Ana Tavela, Mexico, using structure from motion style photogrammetry and an open source, lightweight approach to virtual museums. This project aims to bring information about the collection to a wider audience and provide the local community with a stake in presentation and interpretation of their heritage, while fulfilling national requirements regarding stewardship of archaeological materials. The project explores issues of how well digital media enhances and democratizes access to physical artifact collections and serves as a means of digital repatriation.
---
The economic organization of a pre-contact Northwest Coast village
PI: Patrick Dolan
Institution: Washington State University
Co-PI: Patrick Dolan
Institution: Washington State University
Project Type: Fieldwork
Region: North America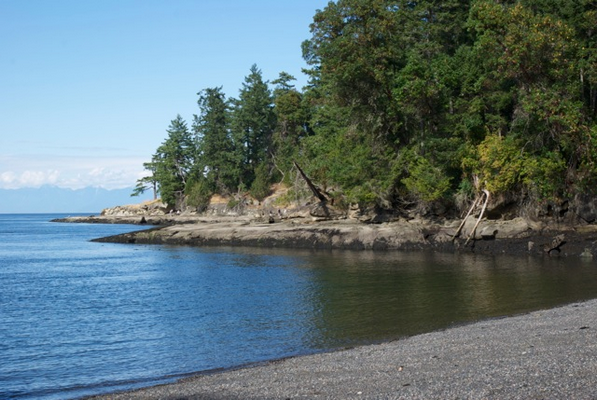 Patrick Dolan and Colin Grier will be using magnetometry survey to collect essential data on the organization of domestic space and households at the Dionisio Point Site in the Gulf Islands, British Columbia. This data will be used to support the broader study of economic indicators of household food production and consumption at a single plank house village in southwestern British Columbia. The SPARC supported phase of the project will generate baseline architectural and demographic data for this village by identifying hearths and other basic household features, part of a growing number of projects using geophysical research to investigate small-scale hunter-fisher-gatherer village economies and the development of social complexity.This research is generously supported by NSF Grant No. 1062615 and an NSF-Doctoral Dissertation Research Improvement Grant No. 1342025
---
Five Lands Geospatial Project
PI: Dr. Nicholas Carter
Institution: Harvard University
Co-PI: Dr. Nicholas Carter
Institution: Harvard University
Project Type: Analytics
Region: Central America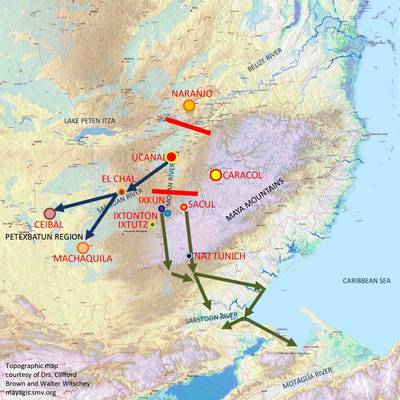 Dr. Carter, together with Ms. Santini and Mr. Davenport, will collaborate with SPARC researchers to study the relationships between terrain, routeways, and evolving settlement patterns in the Five Lands region during the Classic period of Maya culture history. The project will assess the relationships between intervisibility and visual position, travel cost, and regional settlement structure in a rugged yet highly interconnected landscape. Specifically, the locations chosen for the establishment of new capitals will be considered in light of existing settlements and the need for access to and control over travel routes that allow for participation in the trade of prestige goods. The team will acquire relevant topographic and land cover data, integrate information on the locations of known sites and economic connections, and carry out visibility and cost-surface analyses.
---
Etruria Before and After the Roman Conquest. The Landscape of Vulci.
PI: Orlando Cerasuolo, Erin Warford, Stephen Dyson
Institution: SUNY Buffalo
Co-PI: Orlando Cerasuolo, Erin Warford, Stephen Dyson
Institution: SUNY Buffalo
Project Type: Analytics
Region: Mediterranean Europe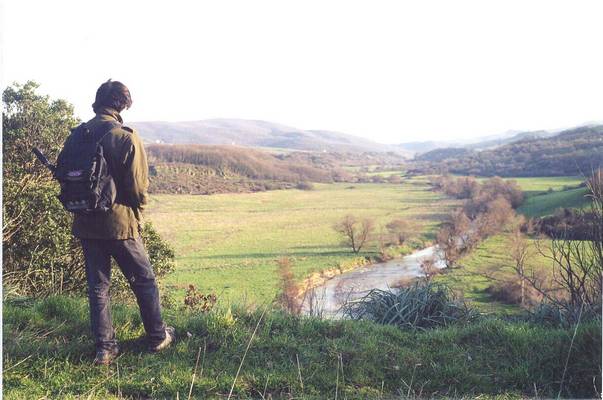 Over a thousand archaeological sites have been identified in the landscape around Vulci, located north of Rome in Italy through a variety of surveys and excavations. Through this SPARC supported project, researchers from SUNY Buffalo and Accademia Nazionale dei Lincei - Rome will be bringing this information, together with environmental and topographic data and aerial imagery, to bear in a new study of the territory, aiming to better understand the military, social, and economic organization of the pre-Roman landscape, and the Etruscan response to Roman invasion— a critical period currently understood mainly from a Roman perspectives— and the Roman changes to the territory after the conquest of Vulci. Integrating and analyzing these complex data, the project will investigate questions of continuity and change, the organization of the local rural economy, the influence of the natural environment, and the value of a landscape approach to the study of the region's social structures. This research project is conducted with the kind cooperation of the Soprintendenza per i Beni Archeologici dell'Etruria Meridionale, the Soprintendenza per i Beni Archeologici della Toscana and the Riserva Naturale Selva del Lamone.
---
Identification of Coarse Earthenware Potters on Production and Consumption Sites in Charlestown, Massachusetts Using Fingerprint Biometric Identification
PI: Joseph Bagley and Jennifer Poulsen
Institution: Boston Landmarks Commission
Co-PI: Joseph Bagley and Jennifer Poulsen
Institution: Boston Landmarks Commission
Project Type: Anayltics
Region: North America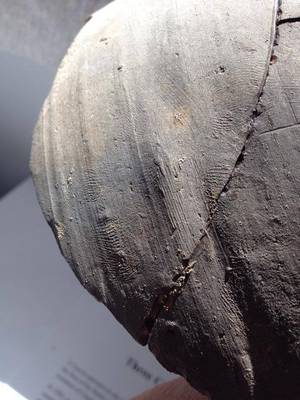 Joseph Bagley and Jennifer Poulsen of the Boston Landmarks Commission will be collaborating with SPARC researchers to use a structured light scanner to create detailed 3D models of ceramic artifacts featuring finger and hand prints from the Parker-Harris Pottery Site and Three Cranes tavern Site in Charlestown, Massachusetts. Fingerprints from redware vessels at both production and consumption sites will be analyzed. The goal of this proof-of-concept pilot project is to establish that biometric identifiers can be used to directly connect pottery from consumption sites with production sites when there is a known sale of product between production and consumption sites, tightly dated deposits that can limit association of pottery to specific potters, and there are a limited number of potters known to be producing these vessels. This project will also establish a visual reference collection of fingerprints with the potential for expansion into an automated fingerprint identification system of historic potters on both production and consumption sites in Charlestown and beyond. This type of database could establish previously-unknown associations and commercial networks of domestic redware potters across the eastern United States. With data as unique and personal as a fingerprint, the results of this analysis with bring a personal and evocative light to these significant assemblages, allowing the public to appreciate these forgotten and sometimes nameless potters through the intimate association of their hands.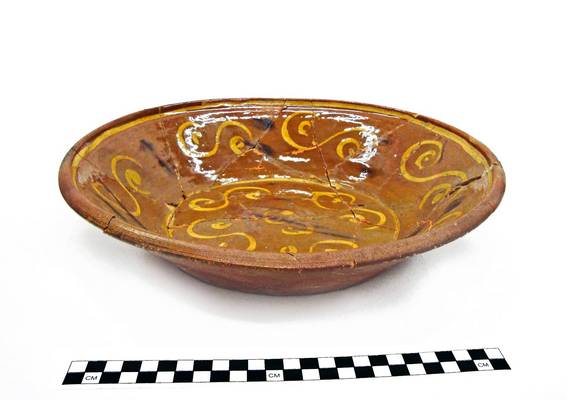 ---
Understanding Rejolladas and Examining their Potential for Predicting Settlement Location at Tahcabo
PI: Patricia McAnany
Institution: UNC Chapel Hill
Co-PI: Patricia McAnany
Institution: UNC Chapel Hill
Project Type: Analytics
Region: Central America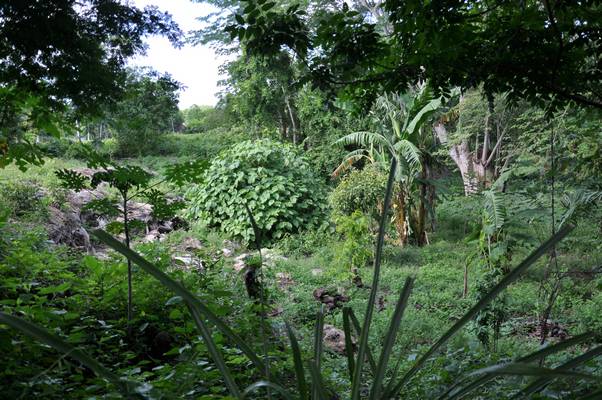 Professor Patricia McAnany and Maia Dedrick of UNC Chapel Hill and Dr. Adolfo-Iván Batún-Alpuche (AGEY) will be collaborating with SPARC researchers to seeks to identify the size and distribution of rejolladas (limestone solution sinkholes) on commonly held ejido land surrounding the town of Tahcabo, Yucatán, México. Rejolladas are significant landscape features because they generally contain deep soils and are characterized by high humidity, in contrast to their surroundings, characterized by shallow surface soils that mean that in northern Yucatán many culturally important tree crops—such as cacao—can only be grown in rejolladas. Further, this difference in soils means that long occupational sequences and information on changes in land use and crop regimes will likely come from rejolladas rather than shallow surface excavations. In this project the collaborators will use remote sensing data to identify and characterize the rejolladas in the area around Tahcabo and to use the results of the mapping exercise to construct a predictive model of settlement location. Further study will examine the attractiveness of rejolladas, and whether such attractiveness was spatially or temporally contingent. The research will also support archaeobotanical and ethnobotanical research by the co-PIs.
---