Mapping the Iron Age Metalworking Site of As-Safah (Oman)
PI: Michael Harrower
Institution: John Hopkins University
Co-PI: Michael Harrower
Institution: John Hopkins University
Project Type: Fieldwork
Region: Near East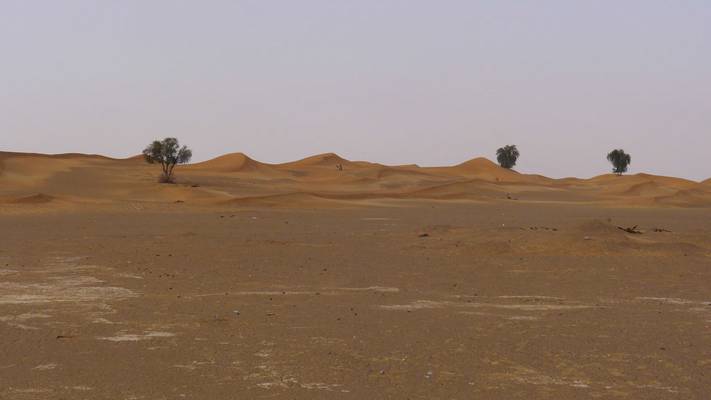 This project will use Ground Penetrating Radar (GPR) to transform understanding of Iron Age metallurgy in Oman, looking specifically at the metalworking site of As-Safah – located at the edge of the Rub' Al-Khali (Empty Quarter) of Arabia. The geophysical investigations will address questions like the size and spatial layout of As-Safah, if people there lived in tents or more permanent structures potentially recognizable in GPR and water and fuel availability. The broader impacts of this work include understanding how societies of the past adapted to harsh arid environments and developed technologies to produce valuable tools and trade goods from relatively rare natural resources such as copper.
---
Architectural Sequences in the Shire Region
PI: Willeke Wendrich
Institution: University of California – Los Angeles
Co-PI: Willeke Wendrich
Institution: University of California – Los Angeles
Project Type: Fieldwork
Region: Africa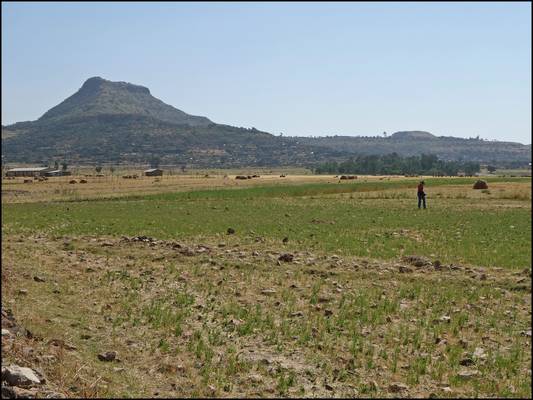 Together with SPARC researchers, Drs. Wendrich and Barnard and Ms. Moy will undertake geophysical survey and analysis of archaeological remains dating to the Aksumite Period across an occupation area around the sites of Mai Adrasha and Mezebar Adimenabr (Ethiopia). The material culture of this period and region is relatively unknown, and the results of the project will provide essential basic archaeological data. The team plans to focus their investigations on the variability of domestic architecture. Patterns and distributions of domestic architecture types will be used to elucidate differences in identity or activities within the context of a community developing new agricultural practices and in the process of urbanization.
---
Data-fusion of a multi-instrument geophysical survey of an Iron Age Iberian/Roman settlement
PI: Wendy Cegielski
Institution: Arizona State University
Co-PI: Wendy Cegielski
Institution: Arizona State University
Project Type: Analytics
Region: Mediterranean Europe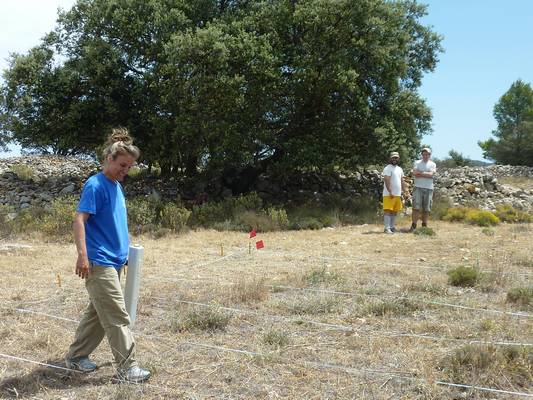 Wendy Cegielski (ASU), with co-PIs Justin Rego and Ignacio Grau-Mira will be collaborating with SPARC researchers to investigate the structure and organization of the urban, Iberian fortified settlement of Mariola in Eastern Spain. Mariola's occupation spans the 2 and 1 centuries BC, a period marking the first stage of Roman control of Eastern Iberia, before the direct implantation of Roman Towns in the 1 century AD. This project's The coPI's have collected a large, multi-instrument dataset including gradiometry data with almost full coverage of the site area supplemented by sampled conductivity and susceptibility data. The PIs will work with SPARC researchers to pursue advanced datafusion techniques and the integration of LiDAR imagery. The aim is to improve current methods for distinguishing features of interest on Iberian fortress sites, and to undertake a more elaborate analysis of the data available, to identify of household structures and other traces of the urban plan, and to interpret their incorporation of Roman and Iberian structural features. These results will be compared to the settlement plans of other Iberian fortresses in the region in order to increase our understanding of the process of Roman Imperialism in Iberia. We would like to acknowledge the University of Alicante Spain, the Museu Arqueològic Municipal in Alcoi Spain, Dr. Ignasi Grau-Mira, and the 2014 Mariola Field School as hosts and assistants with the geophysical survey. We also thank Geoscan Research and Dr. Lew Somers for technical assistance and supplies and Dr. Jay K. Johnson from the University of Mississippi for the geophysical instrumentation.
---
Five Lands Geospatial Project
PI: Dr. Nicholas Carter
Institution: Harvard University
Co-PI: Dr. Nicholas Carter
Institution: Harvard University
Project Type: Analytics
Region: Central America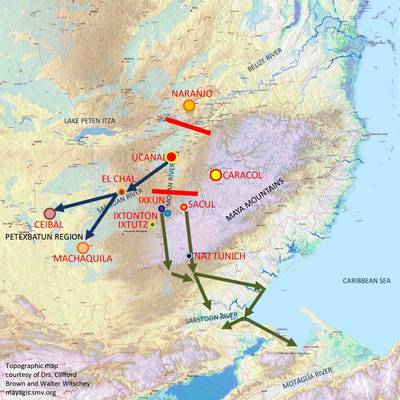 Dr. Carter, together with Ms. Santini and Mr. Davenport, will collaborate with SPARC researchers to study the relationships between terrain, routeways, and evolving settlement patterns in the Five Lands region during the Classic period of Maya culture history. The project will assess the relationships between intervisibility and visual position, travel cost, and regional settlement structure in a rugged yet highly interconnected landscape. Specifically, the locations chosen for the establishment of new capitals will be considered in light of existing settlements and the need for access to and control over travel routes that allow for participation in the trade of prestige goods. The team will acquire relevant topographic and land cover data, integrate information on the locations of known sites and economic connections, and carry out visibility and cost-surface analyses.
---
Turning the Landscape into a Stela: The Mechanics of Egyptian Royal Rock Inscriptions
PI: Jennifer Thum
Institution: Brown University
Co-PI: Jennifer Thum
Institution: Brown University
Project Type: Fieldwork
Region: Near East and North Africa
Photo Credit: A.D. Riddle Ms. Thum will collaborate with researchers from CAST to create detailed and georeferenced 3D models of Egyptian inscriptions carved into the stone and their immediately surrounding landscapes in a variety of locations in the Middle East and North Africa that fall within the sphere of Egyptian influence. Through this analysis the research team will investigate potential cultural, religious, and military motivations behind the placement of living-rock monuments on particular outcrops and in the wider landscapes around them and to assess whether spatial language within the texts of living-rock monuments might have played a role in articulating their positions in the landscape.This project gratefully acknowledges the support of the Council of American Overseas Research Centers (CAORC), the Andrew W. Mellon Foundation, the American Research Center in Egypt (ARCE), and the United States Department of State Bureau of Educational and Cultural Affairs.
---
Biodiversity as a Social Process: Land Use, Resource Consumption, and Near-surface Geophysical Explorations at South Indian Iron Age-Early Historic Settlements
PI: Andrew Bauer
Institution: University of Illinois
Co-PI: Andrew Bauer
Institution: University of Illinois
Project Type: Fieldwork
Region: India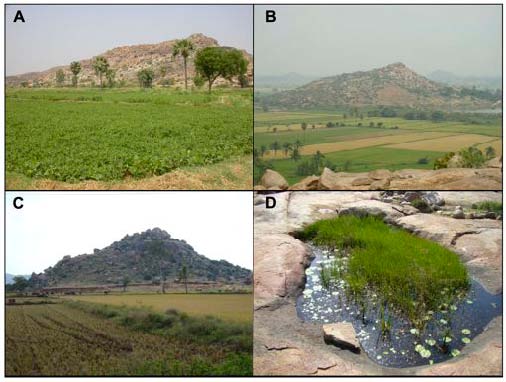 Dr. Andrew Bauer of the University of Illinois will be collaborating with SPARC researchers to carry out near-surface mapping of magnetic anomalies as part of a broader interdisciplinary project designed to examine the related social and natural histories of the understudied inselbergs (island mountains) of the peninsular interior of South India. This research will improve our understanding of the development of social distinctions in ancient South India and to establish the inselbergs' ecological histories. The planned geophysical explorations have the strong potential to identify structures and activity spaces for forthcoming excavations of habitation and metals production locales at two sites of this type, Kadebakele and Maski, where artifact surface distributions and early textual sources suggest specialized extraction and production of iron and gold occurred. Identifying the location of metalworking facilities at Early Historic Kadebakele through the geophysical survey would enable an evaluation of the scale and degree of metallurgical production within a settlement context. Reliance upon iron blooms smelted 20 km. from the settlement would have had both profound implications for the regional political economy as well as the ecology of the adjacent inselberg hills, where fuel demands for smelting vs. smithing would have had vastly different implications for plant and animal communities, soil erosion, and additional human land-use practices. At Maski the geophysical survey will enable us to identify important temporal shifts in production and the degree to which manufacturing activities were socially specialized, centralized, or more evenly distributed among ancient inhabitants, and likewise the degree to which production and consumption of certain materials and artifact forms contributed to the creation and maintenance of social distinctions. Furthermore, the intensity of production activities and careful documentation of fuel usage in various stages of metallurgical production at Maski will allow us to link production activities with the results of ongoing stratigraphic paleoecological assessments of the hill's vegetation history. Overall, the geophysical research will provide a critical bridge between pedestrian survey and paleoecological sampling analyses and the excavation of subsurface contexts where sociocultural production and consumption activities can be evaluated.
---
Identification of Coarse Earthenware Potters on Production and Consumption Sites in Charlestown, Massachusetts Using Fingerprint Biometric Identification
PI: Joseph Bagley and Jennifer Poulsen
Institution: Boston Landmarks Commission
Co-PI: Joseph Bagley and Jennifer Poulsen
Institution: Boston Landmarks Commission
Project Type: Anayltics
Region: North America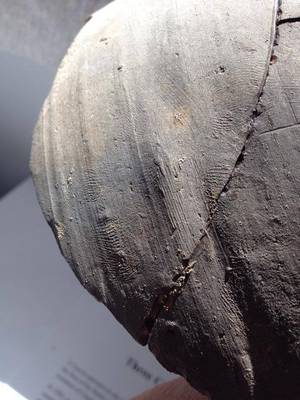 Joseph Bagley and Jennifer Poulsen of the Boston Landmarks Commission will be collaborating with SPARC researchers to use a structured light scanner to create detailed 3D models of ceramic artifacts featuring finger and hand prints from the Parker-Harris Pottery Site and Three Cranes tavern Site in Charlestown, Massachusetts. Fingerprints from redware vessels at both production and consumption sites will be analyzed. The goal of this proof-of-concept pilot project is to establish that biometric identifiers can be used to directly connect pottery from consumption sites with production sites when there is a known sale of product between production and consumption sites, tightly dated deposits that can limit association of pottery to specific potters, and there are a limited number of potters known to be producing these vessels. This project will also establish a visual reference collection of fingerprints with the potential for expansion into an automated fingerprint identification system of historic potters on both production and consumption sites in Charlestown and beyond. This type of database could establish previously-unknown associations and commercial networks of domestic redware potters across the eastern United States. With data as unique and personal as a fingerprint, the results of this analysis with bring a personal and evocative light to these significant assemblages, allowing the public to appreciate these forgotten and sometimes nameless potters through the intimate association of their hands.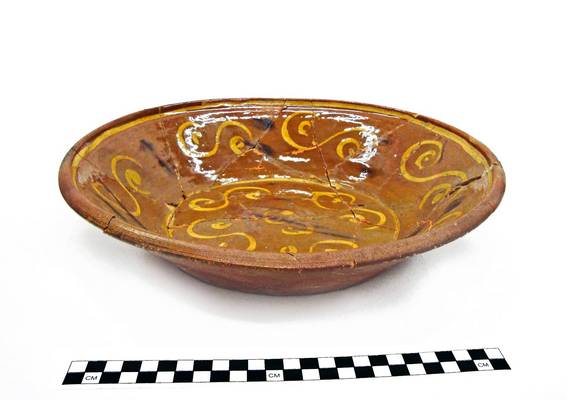 ---