Measuring Household Economies in Iron Age Southwest Jordan: An Archaeological Case Study from Edomite Busayra
PI: Benjamin Porter
Institution: University of California, Berkeley
Co-PI: Benjamin Porter
Institution: University of California, Berkeley
Project Type: Fieldwork
Region: Near East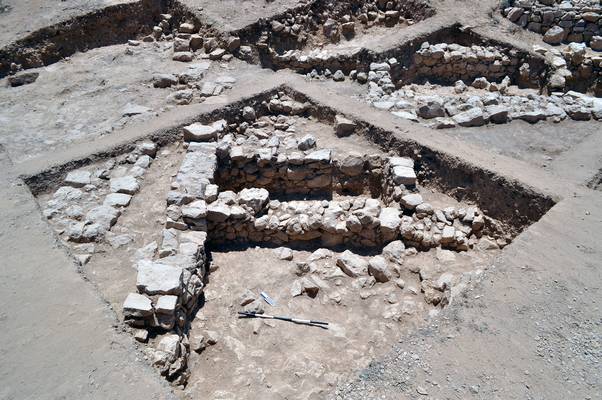 Anthropological archaeologists have long sought to document and explain how the economies of past societies responded to imperial rule. Scholars have paid particular attention to the ways indigenous economies reacted under the stress of imperial demands for tribute and market demands for new or more products. Producers, either on their own or with assistance from imperial sponsorship, could intensify the organization of their economies in order to increase output and meet these new demands. This project investigates questions of how producers in semi-arid zones create sustainable economies that meet their precarious subsistence requirements while achieving the demands of empires and new markets. In this project Dr. Porter will collaborate with SPARC researchers to carry out geophysical survey at Busayra to map sub-surface features in order to characterize the overall architectural layout of the settlement as well as identify domestic residences for additional sampling. The results of the geophysical survey will help target excavation, which in turn will concentrate on recovering inorganic and organic evidence from secure contexts in order to answer the project's principal research question concerning how household economies were reorganized, elucidating evidence for trends toward economic specialization to maximize output in a semi-arid environment. This research is supported by the Jordanian Department of Antiquities al-Hima (http://www.alhima-jo.org/en), American Center of Oriental Research (ACOR) in 'Amman, the University of California, Berkeley, and the University of California, Berkeley's Archaeological Research Facility.
---
Modeling Royal Architecture at Sans Souci, Haiti: 3D Scanning and Photogrammetry at a UNESCO World Heritage Site
PI: Cameron Monroe
Institution: University of California – Santa Cruz
Co-PI: Cameron Monroe
Institution: University of California – Santa Cruz
Project Type: Fieldwork
Region: Caribbean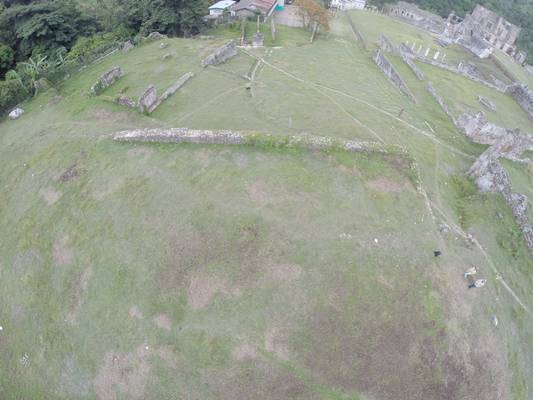 CAST researchers will be collaborating with Dr. Monroe and Mrs. Rocourt to collect new 3D scanning and photogrammetric data of the standing architecture at San Souci, Haiti to generate a high resolution architectural and topographic plan of the site. The collection of this data is crucial to the PIs examination of the architecture of power in the short-lived Kingdom of Haiti (1811-1820), which emerged in the years following the Haitian Revolution. The new project builds on an earlier program of geophysical survey centered on the main palace, and supports the completion of the preliminary study of the site, generating baseline data with which to begin to ask broader questions about the organization of space at this important and under-studied site, and the social dynamics expressed and created by the spatial arrangements.
---
Vulci 3000
PI: Dr. Maurizio Forte
Institution: Duke University
Co-PI: Dr. Maurizio Forte
Institution: Duke University
Project Type: Fieldwork
Region: Mediterranean Europe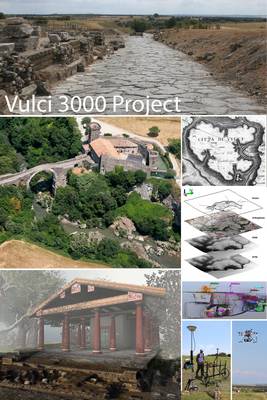 Vulci 3000 is a multidisciplinary project of archaeological research, training and digital communication focused on the Etruscan site of Vulci in central Italy. At many Etruscan sites archaeological research has focused on the necropoleis and funerary contexts. This research orientation has broadly led to a mystical image of Etruscan cities, primarily understood as "cities of dead" rather than living cities, complex settlements and social organisms. At Vulci, the Vulci 3000 Project will be pursuing an alternative line of research, focused on the organization of the ancient territory, population, and city plans – the living city. The research, to be carried out over five years will focus on the diachronic relationships between the ancient city and its landscape, and the organization of the urban center, will provide a different view of urbanism in central Italy, as Vulci emerges as a city is transformed through encounters with neighboring cultures and an expanding Roman state . Dr. Maurizio Forte and Dr. Nevio Danelon will collaborate with SPARC PIs to undertake topographic and architectural survey through terrestrial laserscanning, data that will aid in the contextualization and analysis of previously collected geophysical survey data, and form an integral part of the multi-source dataset supporting the project's larger research agenda. The collaborative research project supported through SPARC will emphasize the analysis and interpretive characterization of the TLS data, pursuing innovative ways to use this type of data to support archaeological interpretation within an integrated multi-sensor dataset. Archaeological data post-processing for Vulci is supported by the Bass connection grant (Duke University) and by the research team of the Dig@Lab and Media+Art and Sciences (Duke University). A new endowment for archaeological fieldwork recently established in the Department of Classical Studies (Duke) will partially support the project for the next three years.
---
Bosutswe Landscapes: Exploring early African towns through geophysics and photogrammetry
PI: Carla Klehm
Institution: University of Washington St. Louis
Co-PI: Carla Klehm
Institution: University of Washington St. Louis
Project Type: Fieldwork
Region: Africa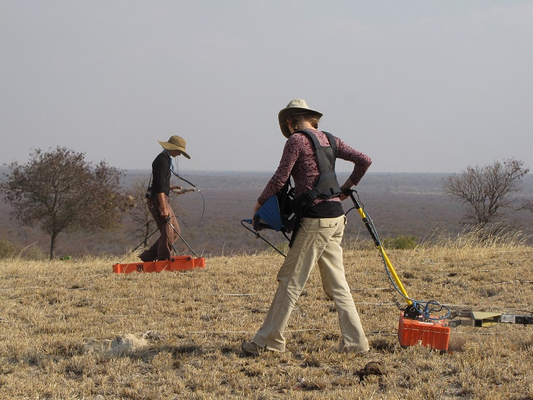 Drs. Klehm and Ernenwien will be using geophysical and airborne thermographic survey to study three small rural sites in Botswana, with the aim of expanding our understanding of the local social, political, and economic landscape around the polity site of Bosutswe, the central site for this area. Low-altitude aerial remote sensing of the hilltop site of Mmadipudi Hill, two small grounds sites (Queen's Site and Queen's House Site) is planned to try and detect subsurface features at known sites and identify new, unknown sites. This work will be complemented by on-the-ground geophysical methods (EMI, magnetometry, and GPR) to characterize the subsurface at known and newly discovered sites in order to understand their spatial layout. The end products from the geophysical and aerial remote sensing surveys will be integrated to understand intra-site spatial patterns and spatial relationships between sites in the region.
---
Bosutswe Landscapes Regional Survey: Building a Predictive GIS Model of Archaeological Sites in the African Interior
PI: Carla Klehm
Institution: Washington University in St. Louis
Co-PI: Carla Klehm
Institution: Washington University in St. Louis
Project Type: Analytics
Region: Africa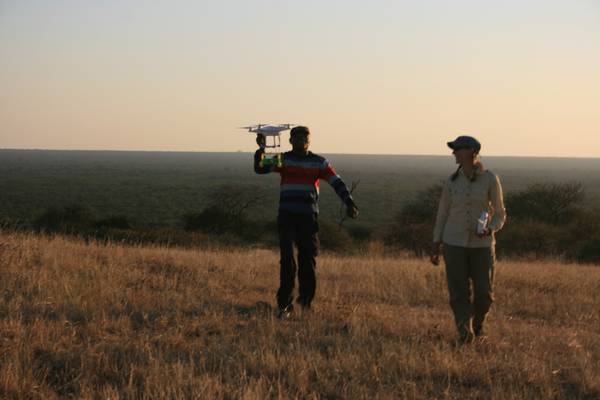 (Image credit: Mica Jones) The Bosutswe Landscapes Regional Survey (BosLand) began in 2014 to works towards a better understanding of the precolonial cities and kingdoms that arise in the African interior around the 1st millennium AD. This project focuses on building a GIS to integrate extensive, newly acquired, satellite imagery for the study region with data collected from previously collected geophysical and close-range aerial data. The project's GIS will also bring together information on sites with that on local water systems. The project also aims to develop a predictive model for sites in other nearby areas. The PI (Klehm) would like to acknowledge the DigitalGlobe Foundation for their support in the upcoming project through an Imagery Grant. The SPARC Analytics project uses, in part, previously collected survey and excavation data in 2014. To this effect, the PI would also like to acknowledge the support of East Tennessee State University (under a RDC Major Research Grant) and, jointly, the Center for Advanced Spatial Technologies at University of Arkansas and National Science Foundation (through a SPARC Fieldwork Grant). The geophysical component of this previous field research was led by Dr. Eileen Ernenwein East Tennessee State University, the aerial survey by Katie Simon at University of Arkansas, under the direction of Carla Klehm and with archaeological assistance from the University of Botswana and the National Museum of Botswana. The 2014 data were collected under Republic of Botswana Ministry of Environment, Wildlife, and Tourism Permit EWT8/36/4XXV(62).
---
Craft Production and Technological Change at Fortress Sites in the South Caucasus, c. 1500-500 BC
PI: Nathaniel Erb-Satullo
Institution: Harvard University
Co-PI: Nathaniel Erb-Satullo
Institution: Harvard University
Project Type: Fieldwork
Region: Caucasus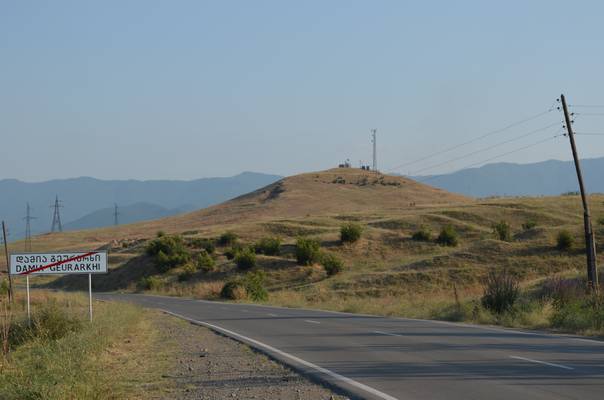 Through this collaborative project, Mr. Erb-Satullo and members of the SPARC team will carry out geophysical surveys at Mtsvane Gora (Republic of Georgia). The project aims to identify and understand the spatial distribution of metallurgy activities and extra-mural settlement at the site. The elucidation of these patterns will support Mr. Erb-Satullo's research on the social context of early iron production, as reflected in the spatial relationships between domestic areas, workshops, and public areas. The results of this research will contribute to the PIs broader work on control of metal production, technological change, social hierarchy and settlement in the context of the Bronze Age – Iron Age transition in Georgia.
---
The Gault Site 41BL323
PI: Dr. Michael Collins
Institution: University of Texas at Austin
Co-PI: Dr. Michael Collins
Institution: University of Texas at Austin
Project Type: Fieldwork
Region: North America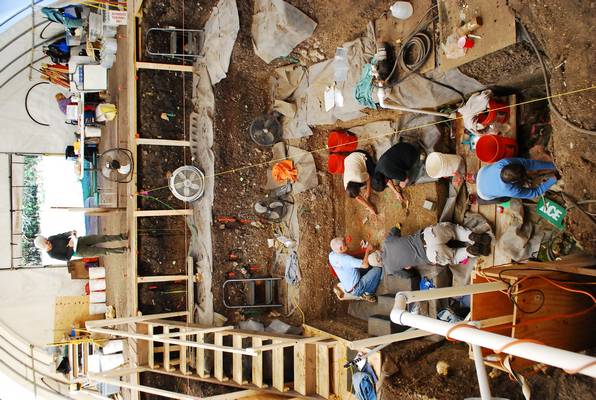 The Gault Site (421BL323) is a multi‐component site with virtually every interval in the regional prehistoric record represented. Deposits in different parts of the site result from various mixes of anthropic and geologic processes (fluvial, colluvial, aeolian) as well as pedogenesis. At this site, Dr. Michael Collins and Dr. Bruce Bradley will be collaborating with SPARC researchers to undertake high‐resolution scanning and photogrammetric documentation of an exposed stratigraphy in a 3-m thick section significant for its long archaeological record and particularly for the presence of a substantial pre-Clovis component , situated stratigraphically below Clovis and dated with OSL on aeolian grains from ca. 16,000 to 13,200. As is true of all sites claiming to have evidence for older‐than‐ Clovis occupation, Gault will be subjected to intense scrutiny, and supporting future independent research on the evidence is seen as essential by the co-PIs. Site formational processes are at the heart of the evidence for integrity of the stratigraphic section, with its pre-Clovis component underlying its Clovis component. Therefore the morphology and topography of the excavated area must be recorded carefully, as part of an effort to create the fullest and most detailed possible documentation of the site's stratigraphy. The results of this project will form the primary framework for integrating all of the broader project's geologic observations and sampling results as the analysis and reporting of this section proceeds. This research is supported by the National Science Foundation, Abell-Hanger Foundation, ExxonMobil Foundation, Archaeological Institute of America, Summerlee Foundation, and Texas Historical Foundation along with numerous individuals.
---