Winter 2014 Funded Projects 08/24/14
We are proud to announce the second group of projects supported by SPARC Awards. Congratulations to all the PIs.
---
Identification of Coarse Earthenware Potters on Production and Consumption Sites in Charlestown, Massachusetts Using Fingerprint Biometric Identification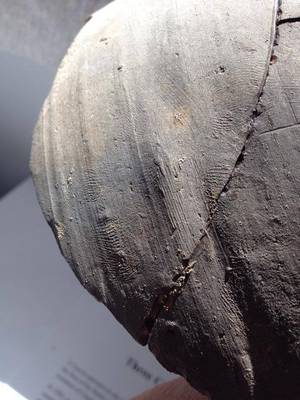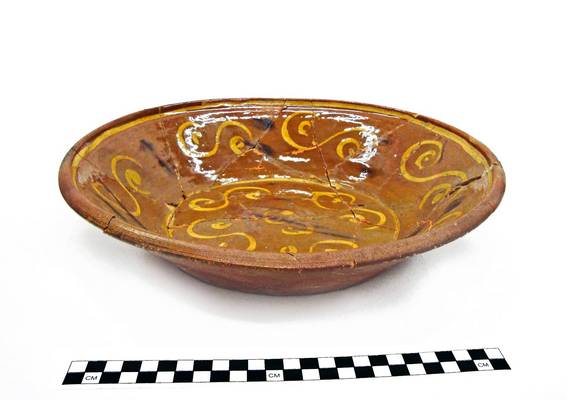 Joseph Bagley and Jennifer Poulsen of the Boston Landmarks Commission will be collaborating with SPARC researchers to use a structured light scanner to create detailed 3D models of ceramic artifacts featuring finger and hand prints from the Parker-Harris Pottery Site and Three Cranes tavern Site in Charlestown, Massachusetts. Fingerprints from redware vessels at both production and consumption sites will be analyzed. The goal of this proof-of-concept pilot project is to establish that biometric identifiers can be used to directly connect pottery from consumption sites with production sites when there is a known sale of product between production and consumption sites, tightly dated deposits that can limit association of pottery to specific potters, and there are a limited number of potters known to be producing these vessels. This project will also establish a visual reference collection of fingerprints with the potential for expansion into an automated fingerprint identification system of historic potters on both production and consumption sites in Charlestown and beyond. This type of database could establish previously-unknown associations and commercial networks of domestic redware potters across the eastern United States. With data as unique and personal as a fingerprint, the results of this analysis with bring a personal and evocative light to these significant assemblages, allowing the public to appreciate these forgotten and sometimes nameless potters through the intimate association of their hands.
PIs: Joseph Bagley and Jennifer Poulsen
Institution: Boston Landmarks Commission
Project Type: Anayltics
Region: North America
---
Biodiversity as a Social Process: Land Use, Resource Consumption, and Near-surface Geophysical Explorations at South Indian Iron Age-Early Historic Settlements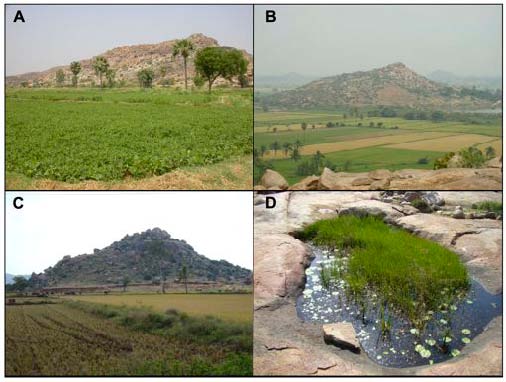 Dr. Andrew Bauer of the University of Illinois will be collaborating with SPARC researchers to carry out near-surface mapping of magnetic anomalies as part of a broader interdisciplinary project designed to examine the related social and natural histories of the understudied inselbergs (island mountains) of the peninsular interior of South India. This research will improve our understanding of the development of social distinctions in ancient South India and to establish the inselbergs' ecological histories.
The planned geophysical explorations have the strong potential to identify structures and activity spaces for forthcoming excavations of habitation and metals production locales at two sites of this type, Kadebakele and Maski, where artifact surface distributions and early textual sources suggest specialized extraction and production of iron and gold occurred. Identifying the location of metalworking facilities at Early Historic Kadebakele through the geophysical survey would enable an evaluation of the scale and degree of metallurgical production within a settlement context. Reliance upon iron blooms smelted 20 km. from the settlement would have had both profound implications for the regional political economy as well as the ecology of the adjacent inselberg hills, where fuel demands for smelting vs. smithing would have had vastly different implications for plant and animal communities, soil erosion, and additional human land-use practices. At Maski the geophysical survey will enable us to identify important temporal shifts in production and the degree to which manufacturing activities were socially specialized, centralized, or more evenly distributed among ancient inhabitants, and likewise the degree to which production and consumption of certain materials and artifact forms contributed to the creation and maintenance of social distinctions. Furthermore, the intensity of production activities and careful documentation of fuel usage in various stages of metallurgical production at Maski will allow us to link production activities with the results of ongoing stratigraphic paleoecological assessments of the hill's vegetation history. Overall, the geophysical research will provide a critical bridge between pedestrian survey and paleoecological sampling analyses and the excavation of subsurface contexts where sociocultural production and consumption activities can be evaluated.
PI: Andrew Bauer
Institution: University of Illinois
Project Type: Fieldwork
Region: India
---
Measuring Household Economies in Iron Age Southwest Jordan: An Archaeological Case Study from Edomite Busayra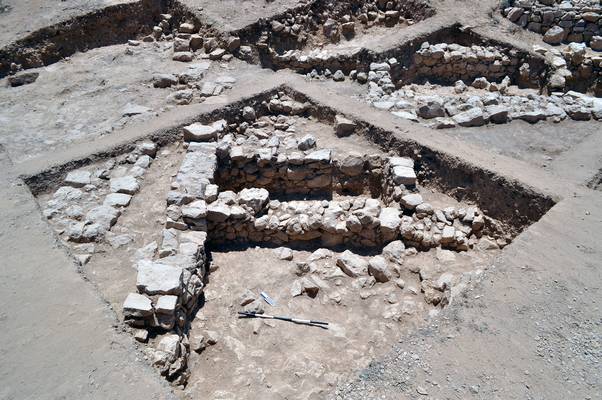 Anthropological archaeologists have long sought to document and explain how the economies of past societies responded to imperial rule. Scholars have paid particular attention to the ways indigenous economies reacted under the stress of imperial demands for tribute and market demands for new or more products. Producers, either on their own or with assistance from imperial sponsorship, could intensify the organization of their economies in order to increase output and meet these new demands. This project investigates questions of how producers in semi-arid zones create sustainable economies that meet their precarious subsistence requirements while achieving the demands of empires and new markets. In this project Dr. Porter will collaborate with SPARC researchers to carry out geophysical survey at Busayra to map sub-surface features in order to characterize the overall architectural layout of the settlement as well as identify domestic residences for additional sampling. The results of the geophysical survey will help target excavation, which in turn will concentrate on recovering inorganic and organic evidence from secure contexts in order to answer the project's principal research question concerning how household economies were reorganized, elucidating evidence for trends toward economic specialization to maximize output in a semi-arid environment.
This research is supported by the Jordanian Department of Antiquities al-Hima (http://www.alhima-jo.org/en), American Center of Oriental Research (ACOR) in 'Amman, the University of California, Berkeley, and the University of California, Berkeley's Archaeological Research Facility.
PI: Benjamin Porter
Institution: University of California, Berkeley
Project Type: Fieldwork
Region: Near East
---
Created by: Rachel Opitz
---
SPARC supports The Kurd Qaburstan Project 07/12/14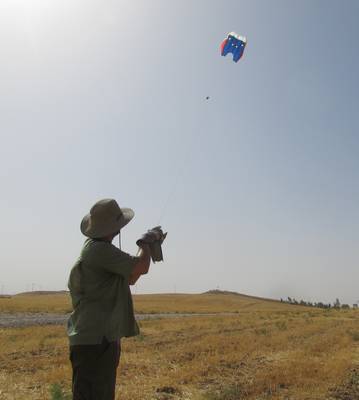 Drs. Creekmore and Schwartz are using geophysics and remote sensing to investigate the spatial distribution of architecture and infrastructure at Kurd Qaburstan, a 118 hectare second millennium BC urban center located outside Erbil, Northern Iraq. SPARC is supporting this work through the collection of aerial photography in order to create microtopographic maps to overlay with other datasets. With this data we are testing the hypothesis that despite having city walls enclosing areas comparable in size to Early Bronze Age (EBA) cities, Middle Bronze Age (MBA) cities were hollow, containing relatively small built-up areas alongside large areas of unbuilt space. This model has been suggested by scholars on the basis of excavations at various sites and interpretations of CORONA imagery at Kurd Qaburstan that identify large empty areas and relatively small built-up areas. If this hypothesis is supported it indicates that there were significant socio-political, economic, and demographic differences between the EBA and MBA city-states in Upper Mesopotamia. If this hypothesis is not supported then we should revise our interpretations of CORONA imagery at Kurd Qaburstan and other sites across Mesopotamia, and rethink the structure of MBA cities.
The Kurd Qaburstan Project is supported by the National Science Foundation (BCS-1156171), the National Geographic Society (9496-14), Johns Hopkins University, and the University of Northern Colorado.
PIs: Glenn Schwartz, Andrew Creekmore
Institutions: Johns Hopkins, University of Northern Colorado
Project Type: Fieldwork
Region: Near East
Created by: Rachel Opitz
---
Spring 2014 Funded Projects 02/15/14
We are proud to announce the first group of projects supported by SPARC Awards. Congratulations to all the PIs.
---
Spring 2014 Projects
Bosutswe Landscapes: Exploring early African towns through geophysics and photogrammetry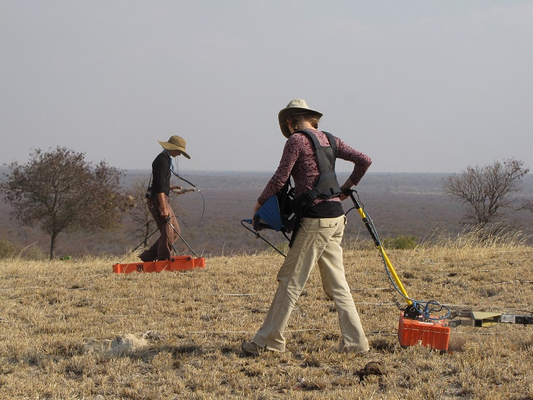 Drs. Klehm and Ernenwien will be using geophysical and airborne thermographic survey to study three small rural sites in Botswana, with the aim of expanding our understanding of the local social, political, and economic landscape around the polity site of Bosutswe, the central site for this area. Low-altitude aerial remote sensing of the hilltop site of Mmadipudi Hill, two small grounds sites (Queen's Site and Queen's House Site) is planned to try and detect subsurface features at known sites and identify new, unknown sites. This work will be complemented by on-the-ground geophysical methods (EMI, magnetometry, and GPR) to characterize the subsurface at known and newly discovered sites in order to understand their spatial layout. The end products from the geophysical and aerial remote sensing surveys will be integrated to understand intra-site spatial patterns and spatial relationships between sites in the region.
PI: Carla Klehm
Institution: Washington University in St. Louis
Co-PI: Eileen Ernenwein
East Tennessee State University
Project Type: Fieldwork
Region: Africa
---
Etruria Before and After the Roman Conquest. The Landscape of Vulci.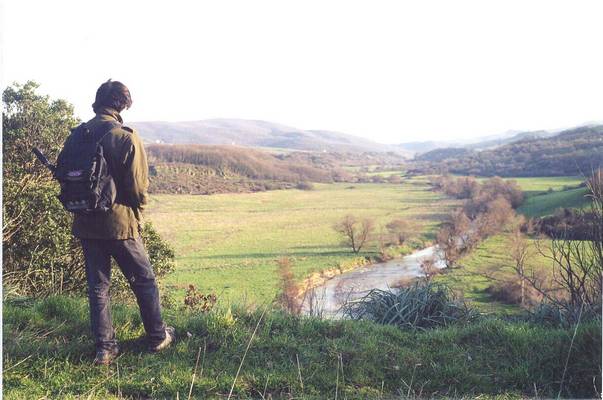 Over a thousand archaeological sites have been identified in the landscape around Vulci, located north of Rome in Italy through a variety of surveys and excavations. Through this SPARC supported project, researchers from SUNY Buffalo and Accademia Nazionale dei Lincei - Rome will be bringing this information, together with environmental and topographic data and aerial imagery, to bear in a new study of the territory, aiming to better understand the military, social, and economic organization of the pre-Roman landscape, and the Etruscan response to Roman invasion— a critical period currently understood mainly from a Roman perspectives— and the Roman changes to the territory after the conquest of Vulci. Integrating and analyzing these complex data, the project will investigate questions of continuity and change, the organization of the local rural economy, the influence of the natural environment, and the value of a landscape approach to the study of the region's social structures.
This research project is conducted with the kind cooperation of the Soprintendenza per i Beni Archeologici dell'Etruria Meridionale, the Soprintendenza per i Beni Archeologici della Toscana and the Riserva Naturale Selva del Lamone.
PI: Orlando Cerasuolo, Erin Warford, Stephen Dyson
Institution: SUNY Buffalo
Co-PI: Orlando Cerasuolo, Erin Warford, Stephen Dyson
Institution: SUNY Buffalo
Project Type: Analytics
Region: Mediterranean Europe
---
Lidar data acquisition and landscape archaeology for the Caribbean island of Montserrat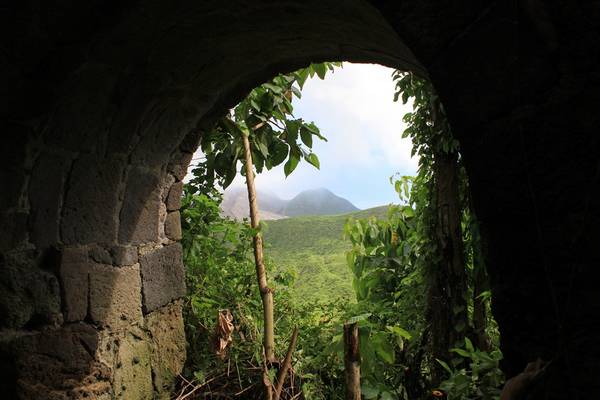 The Survey and Landscape Archaeology on Montserrat project began in 2010, and Drs. Ryzewski and Cherry have been conducting pedestrian survey for four field seasons. The dense vegetation and steep terrain of this island preclude intensive, systematic survey and ground visibility is extremely poor - even standing remains are often hidden by dense tropical forest vegetation. Through their SPARC project, they will begin to use airborne lidar data to map potential cultural landscape features and other anomalies in the Centre Hills region of the island and guide future prospection strategies. This work will generate essential diachronic data and provide the foundations for research on broader questions of long term land-use, settlement history, strategies for risk management, and consequences of migrations and colonization, enabling the researchers to develop new insights into Montserrat's past inhabitants and relationships with the wider Caribbean region.
This research is conducted with the kind collaboration of the Montserrat Volcano Observatory and Montserrat National Trust.
PI: Krysta Ryzewski
Institution: Wayne State University
Co-PI: John Cherry
Institution: Brown University
Project Type: Analytics
Region: Caribbean
---
The economic organization of a pre-contact Northwest Coast village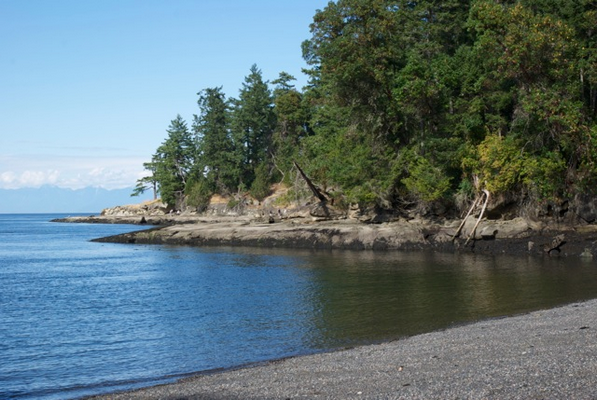 Patrick Dolan and Colin Grier will be using magnetometry survey to collect essential data on the organization of domestic space and households at the Dionisio Point Site in the Gulf Islands, British Columbia. This data will be used to support the broader study of economic indicators of household food production and consumption at a single plank house village in southwestern British Columbia. The SPARC supported phase of the project will generate baseline architectural and demographic data for this village by identifying hearths and other basic household features, part of a growing number of projects using geophysical research to investigate small-scale hunter-fisher-gatherer village economies and the development of social complexity.
This research is generously supported by NSF Grant No. 1062615 and an NSF-Doctoral Dissertation Research Improvement Grant No. 1342025
PI: Patrick Dolan
Institution: Washington State University
Co-PI: Colin Grier
Institution: Washington State University
Project Type: Fieldwork
Region: North America
---
Evaluating Competition Beween Chaco-Style Great Houses in the Southern Cibola Region of West-Central New Mexico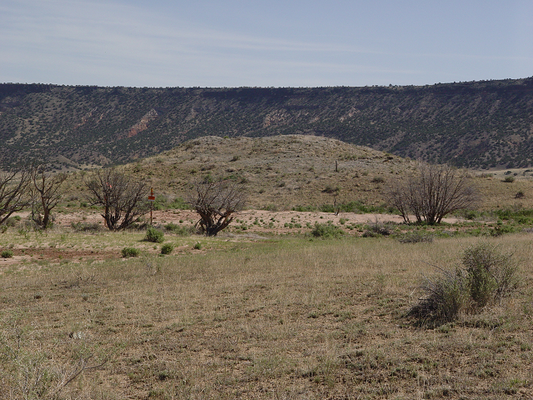 Kristin Safi's project aims to investigate the social mechanisms operating within great house community organization and inter-community interaction that served to integrate and differentiate multi-ethnic communities in the southern Cibola region of west central New Mexico. With SPARC support, she will collect geophysical and airborne thermographic survey data to identify key structures and better understand the organization of the Largo Gap great house. This data will help address the extent to which local great houses in the southern Cibola region maintain a suite of "Chaco" characteristics, or incorporate both Puebloan and Mogollon architectural conventions as a reflection of its multi-ethnic community constituents, with broader implications for our understanding of Chacoan great house communities in the American Southwest and the role of local, inter-community competition in structuring group formation and the negotiation of group identity within the increasingly heterogeneous social landscape of this region during the 11th century.
The Largo Gap Community Project is supported by the National Science Foundation through a Doctoral Dissertation Research Improvement Grant (#1340542), the National Geographic Society (Grant #9323-13), and a research grant by the Arizona Archaeological and Historical Society.
PI: Kristin Safi
Institution: Washington State University
Project Type: Fieldwork
Region: North America
---
Modeling Long-Term Water Management Strategies on the Irrigated Plain of Miān-āb, in the Khuzistan Province of Iran. Type of Application: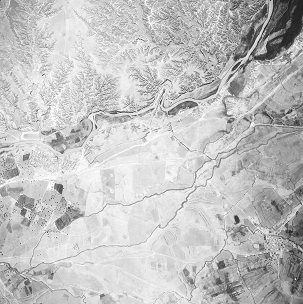 Mehrnoush Soroush's project attempts to understand the longue durée water management strategies on the irrigated landscape of Miān-āb, in the Khuzistan Province of Iran. Using historical aerial photographs and declassified Corona imagery she plans to create a historical DEM and carry out hydrology modeling to study the workings of a complicated irrigation system, which includes canals, dams, weirs, bridges, subterranean channels, and earthen enclosures, that extend over 4000 km2. The project aims to shed light on the dynamics of decision-making and community practices for the management of water resources of Miān-āb from antiquity until the onset of modern agricultural development. New insights into past irrigation and water management derived from this study have the potential to contribute to a more informed and sustainable strategy for the future of the landscape in Miān-āb.
PI: Mehrnoush Soroush
Institution: New York University
Project Type: Analytics
Region: Near East
---
A 3D Digital Collection and Virtual Exhibit for Santa Ana Tavela's Community Museum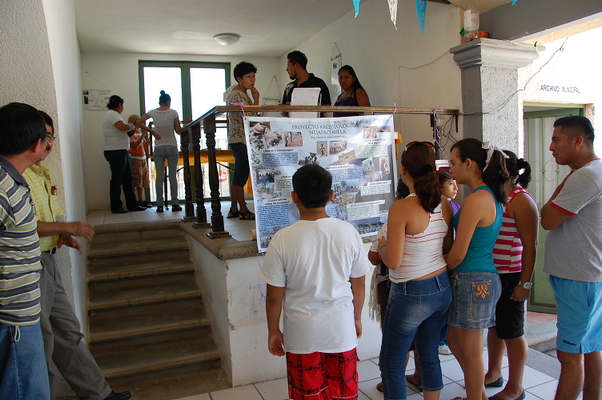 Stacie King will be developing a workflow and protocol to model and virtually display objects from a community museum collection in Santa Ana Tavela, Mexico, using structure from motion style photogrammetry and an open source, lightweight approach to virtual museums. This project aims to bring information about the collection to a wider audience and provide the local community with a stake in presentation and interpretation of their heritage, while fulfilling national requirements regarding stewardship of archaeological materials. The project explores issues of how well digital media enhances and democratizes access to physical artifact collections and serves as a means of digital repatriation.
PI: Stacie King
Institution: Glenn A. Black Laboratory for Archaeology, Indiana University
Project Type: Analytics
Region: North America
---
Created by: Rachel Opitz
---