Congratulations to the BosLand team on their new publication 04/03/19
In summer 2017, SPARC supported Carla Klehm and the BosLand team in the project, "Bosutswe Landscapes Regional Survey: Building a Predictive GIS Model of Archaeological Sites in the African Interior." This built off of a previous (2014) SPARC award, "Bosutswe Landscapes: Exploring early African towns through geophysics and photogrammetry." The BosLand team and SPARC collaborators recently published the results of this work in an article, "Toward Archaeological Predictive Modeling in the Bosutswe Region of Botswana: Utilizing Multispectral Satellite Imagery to Conceptualize Ancient Landscapes," in the Journal of Anthropological Archaeology. In the article, the authors describe how they used an algorithm to classify satellite imagery into 60 different categories and then interpreted the categories to identify probable archaeological sites of interest to the BosLand project, which focuses on the precolonial cities and kingdoms that arose in the African interior around the 1st millennium AD. The article is available here. Congratulations to authors Carla Klehm, Adam Barnes, Forrest Follett, Katie Simon, Christopher Kiahtipes, and Sarah Mothulatshipi!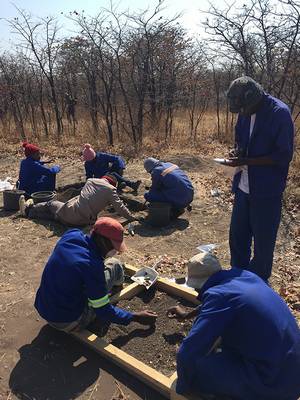 The team undertook excavations at Prospective Site 9 to verify that the identification of surface materials in imagery classification corresponded to the presence of subsurface cultural materials.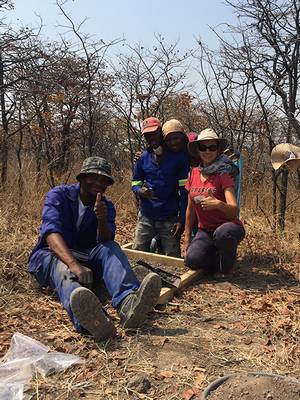 Klehm and the field crew at Prospective Site 9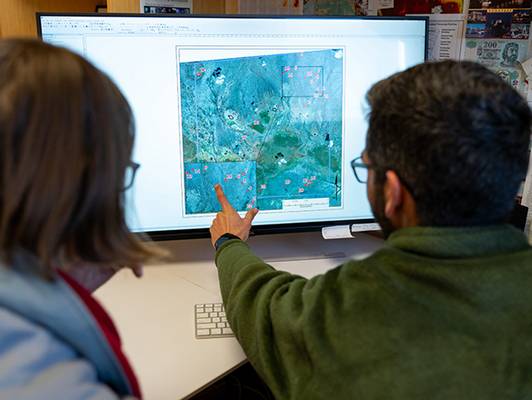 The BosLand team worked with SPARC staff at the CAST lab to evaluate the satellite imagery classification to locate probable new hilltop and open-air sites, which were then validated with field surveys.
Created by: Carolin Ferwerda
---
Upcoming online SAA Seminar with Fred Limp: Newer Developments in Technologies for the Measurement of Form and Space in Archaeology: Part II 11/27/18
December 6, 2018 2-3pm EST More than 60 years ago, Gordon Willey famously stated that the objectives of archaeology are "approached by the study and manipulation of three basic factors: form, space and time." Since then, we have seen the huge impact that improved technologies for the measurement of time have had on the field. We are currently in the midst of a similar revolution in the methods for the measurement of space and form. This lecture updates one first offered by SAA in 2014 and is designed as a state-of-the-art introduction to these developments, specifically for archaeology students. As a two-part series, Part II of this course examines analysis, display, and dissemination of High-Density Survey and Measurement (HDSM) data. Building on Part I, this lecture also provides further considerations and strategies for choosing the "best" approach in using these technologies. *FREE for individual SAA Members. Not available for SAA Nonmembers. Registered Professional Archaeologists will receive 1 Continuing Professional Education (CPE) credits for this course. Register HERE
Created by: Carolin Ferwerda
---
NSF support for SPARC renewed! 09/25/18
Building on five years of continuous investment, the National Science Foundation has renewed funding for the Spatial Archaeometry Research Collaborations program, an initiative through the University of Arkansas, Dartmouth College and the University of Glasgow that acts as a national hub for geospatial research in archaeology. The $188,545 grant supports the SPARC program, which provides research and technical expertise to archaeological research projects working with a variety of technologies, including 3-D survey and modeling, geospatial analysis and visualization, and geophysical and airborne remote-sensing. Building on successful collaborative research projects, in 2017-2018 recipients of SPARC awards, together with their collaborators from the SPARC team, published the results of innovative spatial archaeometric work in Geosciences and the Journal of Field Archaeology. The SPARC team also began an initiative to make completed project's data accessible via publication on Zenodo, an effort that will continue in the coming year. Looking to future work, SPARC is collaborating with the MicroCT Imaging Consortium for Research and Outreach (MICRO) at the University of Arkansas to support projects undertaking high resolution imaging of objects and samples, growing the program's capacity to support data and analytics projects. The SPARC program was created by the Center for Advanced Spatial Technologies and the Archaeo-Imaging Laboratory with a $250,000 grant from the NSF in 2013. The program offers direct support to archaeological projects through awards in fieldwork, data and analytics, and publication. In addition to collaborating on research projects directly, SPARC helps researchers learn about the latest technologies and their archaeological applications through residencies at the Center for Advanced Spatial Technologies or through online resources and periodic webinars. For many decades, space has been viewed as one of the central dimensions of archaeological study, from artifacts to landscapes, and SPARC supports a wide variety of collaborators and projects around the world. Researchers at the Center for Advanced Spatial Technologies have collaborated on 29 projects worldwide, including working with Michael Harrower to conduct geophysical survey in Oman, with Steve Wernke and Parker VanValkenburgh to develop the GeoPACHA platform (Geospatial Platform for Andean Colonial History and Archaeology), and Andrea Brock to model the ancient topography of the Roman Forum Boarium . A full list and complete descriptions of recent awards can be found on the SPARC website. Recent publications resulting from SPARC Projects include: Dolan, Patrick, Colin Grier, Christine Markussen, and Katie Simon. "Magnetic Gradient Survey of the Marpole Period Dionisio Point (DgRv-003) Plankhouse Village, Northwest Coast of North America." Journal of Field Archaeology 42, no. 5 (2017): 437-449. Wiig, Frances, Michael Harrower, Alexander Braun, Smiti Nathan, Joseph Lehner, Katie Simon, Jennie Sturm et al. "Mapping a Subsurface Water Channel with X-Band and C-Band Synthetic Aperture Radar at the Iron Age Archaeological Site of 'Uqdat al-Bakrah (Safah), Oman." Geosciences 8, no. 9 (2018): 334.
Created by: Rachel Opitz
---